In the annals of Chinese history, there are five significant figures overseeing different areas of wealth — career, business, investment, trading and windfall wealth. These figures came to be known as the Five Wealth Gods, and are thought to be the most formidable manifestations of auspicious luck in Chinese culture.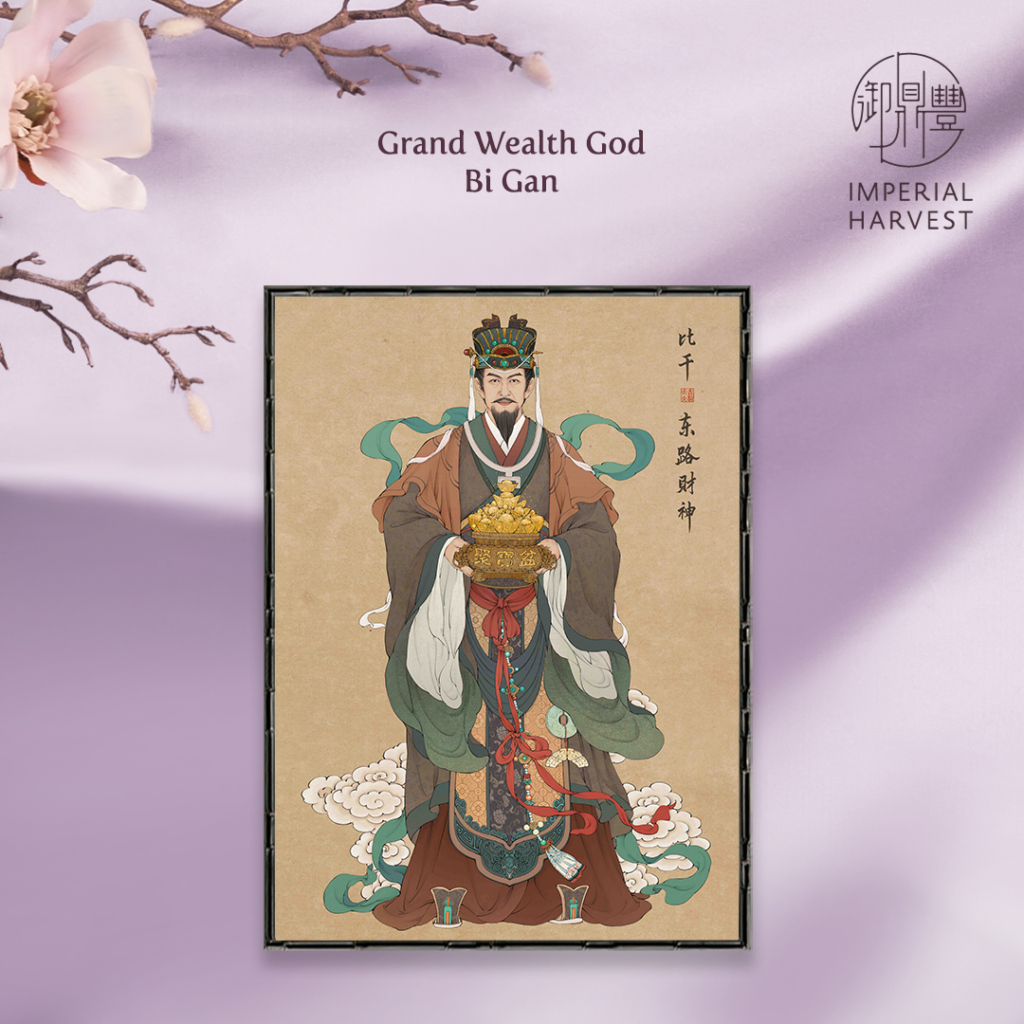 Prior to his deification as a God of Wealth, Bi Gan was known as a prominent minister who adeptly guided King Zhou in his administration during the late Shang dynasty (circa 1556 to 1046 BC). As one of the key advisors to the King, Bi Gan's role was crucial in ensuring the prosperity of the empire. His intelligent and eminent stewardship was recognised in his eventual deification as the Grand Wealth God.
Out of the Five Wealth Gods, the Grand Wealth God Bi Gan is seen as the most powerful manifestation of all wealth gods, overseeing the earthly direct wealth aspirations of his devotees. In a hugely important position, Bi Gan bestows blessings of abundance and prosperity impartially, empowering his devotees to grow, experience their breakthroughs and achieve their greatest goals.
The arrival of the lunar new year is often associated with renewal and fresh starts, with many people visiting temples and sites of worship in droves to seek blessings of fortune as well as guidance and direction for the new year. Today, the Grand Wealth God Bi Gan is so inextricably linked with abundance and fortune that he is more colloquially referred to as "Cai Shen Ye" (财神爷), or the grandfather of wealth.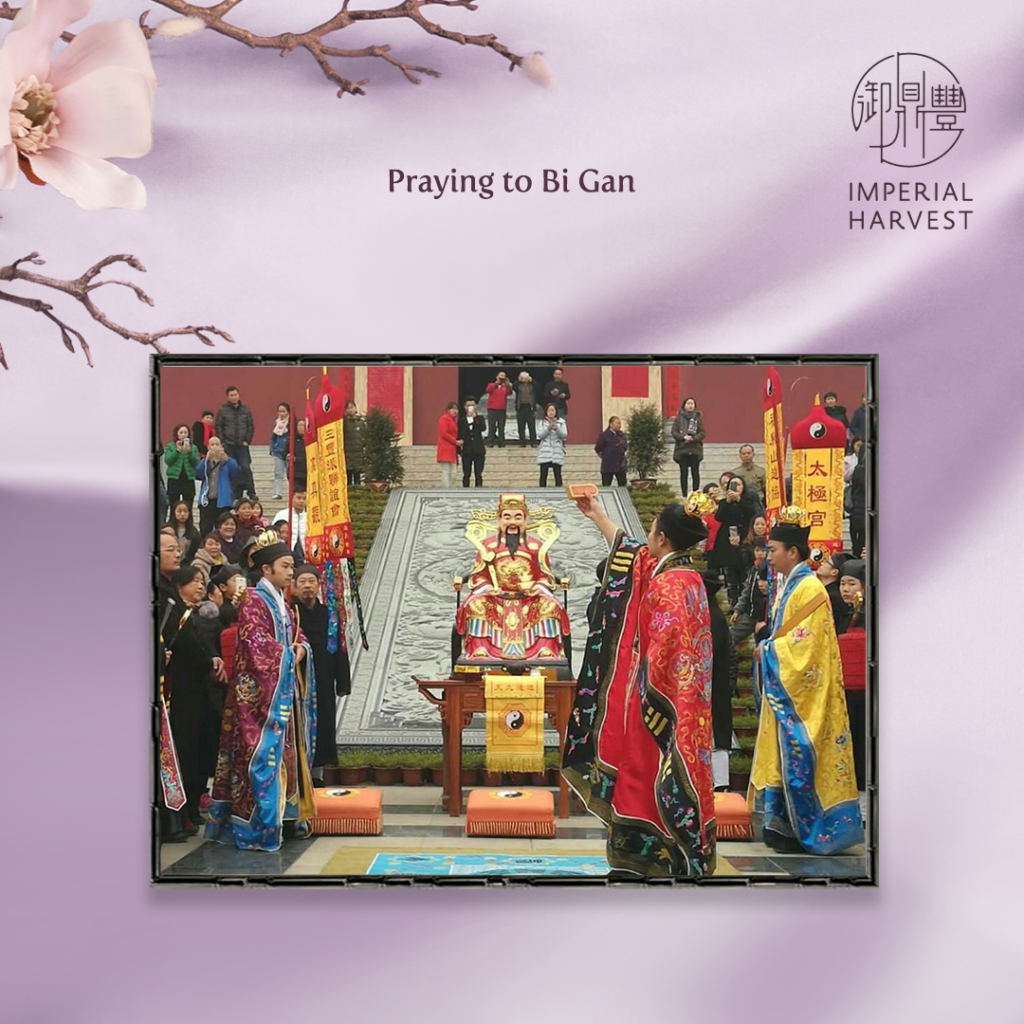 Grand Wealth God – Bi Gan
Conceptualised by Master David, this signature Imperial Harvest treasure is an impeccable tribute to Bi Gan. His bestowing of multiple streams of direct wealth, coupled with his steadfast protection from financial losses make for a contemporary work of art that immortalises Bi Gan's authority, power and influence.
Direct wealth encompasses the income potential we derive from our careers, businesses, sales and other regular sources of income.
The Grand Wealth God Bi Gan controls and manages earthly wealth, overseeing the prosperity aspirations of his devotees. His role is especially prominent on the fifth day of the first lunar month — with many following a time-honoured tradition of welcoming the God of Wealth with lively celebrations and gatherings. As such, the fifth day of the first lunar month has come to be widely associated with Bi Gan's birthday. On this day, devotees not only welcome Bi Gan into their lives and the year ahead, but also thank him for the blessings of wealth bestowed upon them.
Imperial Harvest's Fine Jadeite Grand Wealth God is meticulously hand-finished by master artisans, each displaying a wealth of multi-generational technique and expertise in their craft. The intricacy that defines each Imperial Harvest treasure follows a series of precise design specifications established by Master David, allowing for the maintenance of the highest quality control standards. The meticulous application of jadeite cutting, carving and polishing techniques as exhibited by our team of artisanal masters allow each treasure to achieve the highest echelons of craftsmanship.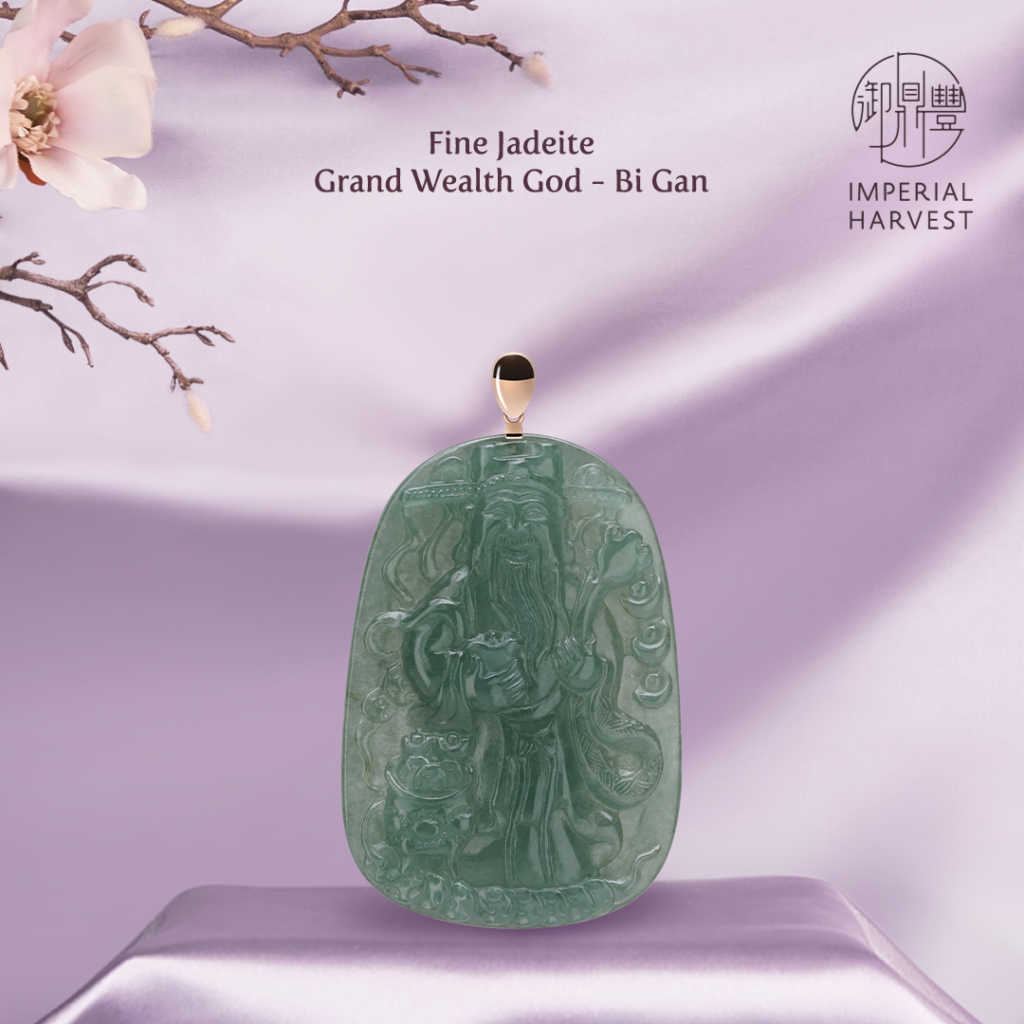 Ruyi Scepter 玉如意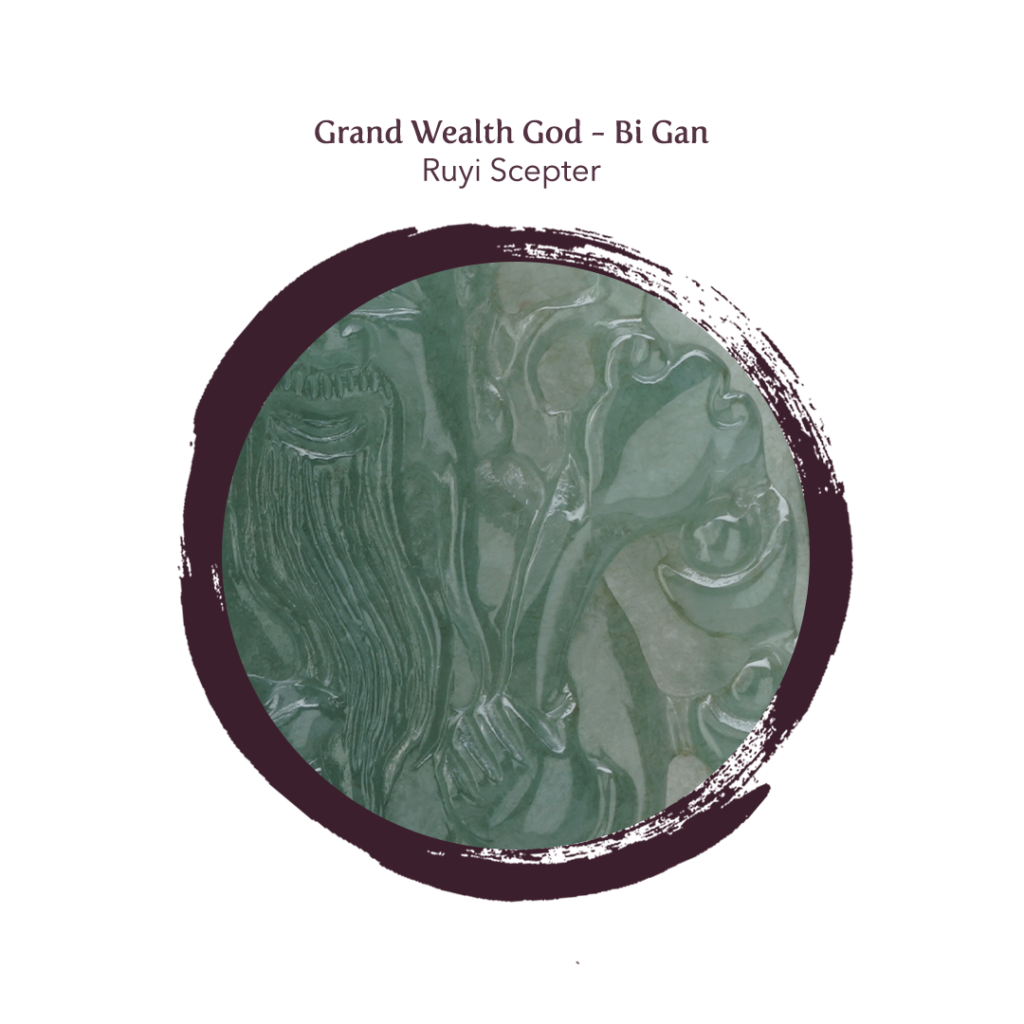 According to ancient Chinese traditions, the Ruyi Scepter served as a ceremonial artefact, often being an important emblem of wealth, power, authority and good fortune. Its incorporation in the design of the Fine Jadeite Grand Wealth God manifests the goals and aspirations of its destined wearer, aiding in securing attractive career prospects, and in achieving consistently high investment returns.
The scepter encompasses Bi Gan's authority as the Grand Wealth God, empowering devotees with the abilities necessary to foster positive working relationships with one's customers in business, or with superiors and subordinates — leading to monumental breakthroughs and successes.
Wealth Garnering Gold Ingot 聚财金元宝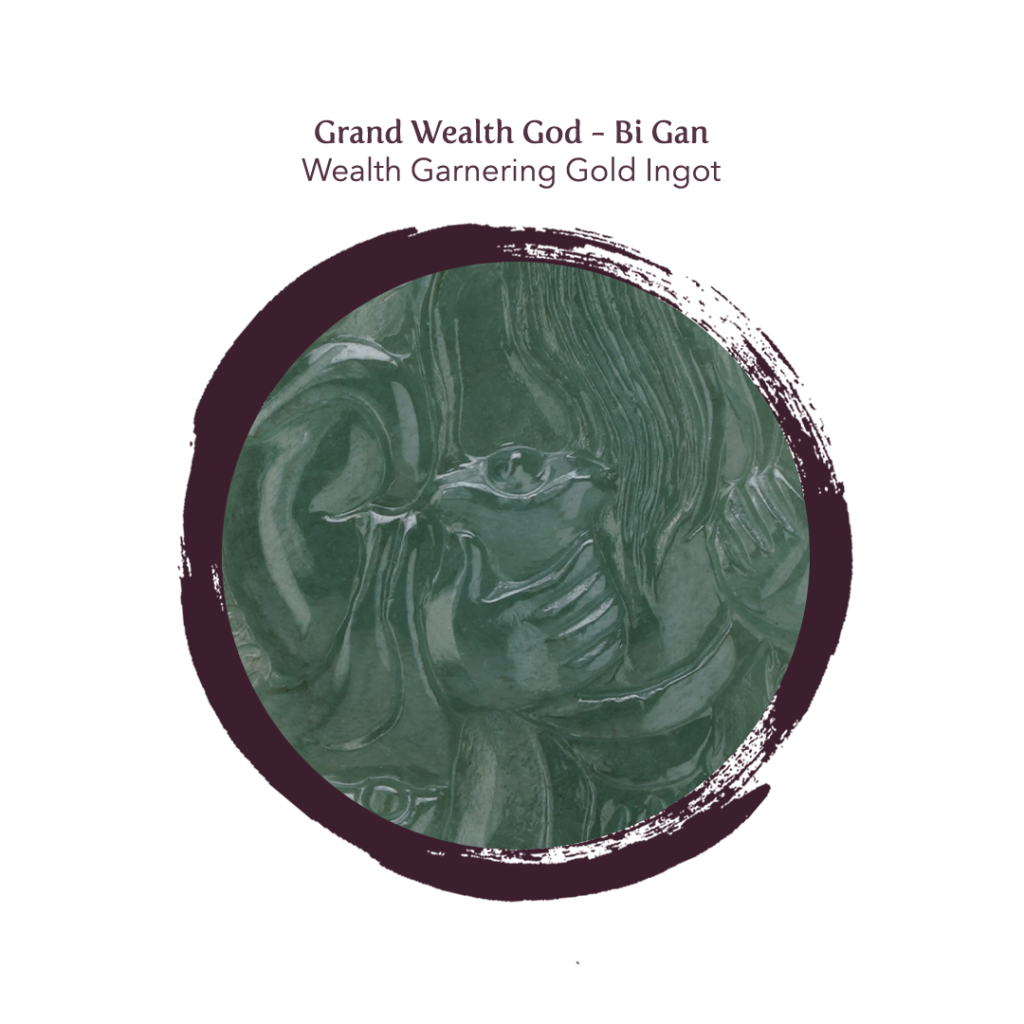 Synonymous with wealth, success and prosperity, the Wealth Garnering Gold Ingot fosters the entrepreneurs' intuitive sense, inspiring them to discern and identify the right trends, and act decisively on opportunities that present themselves. For career professionals, it attracts powerful mentors and benefactors, propelling them to reach new heights and experience successful breakthroughs.
Wealth Garnering Pot (聚宝盆)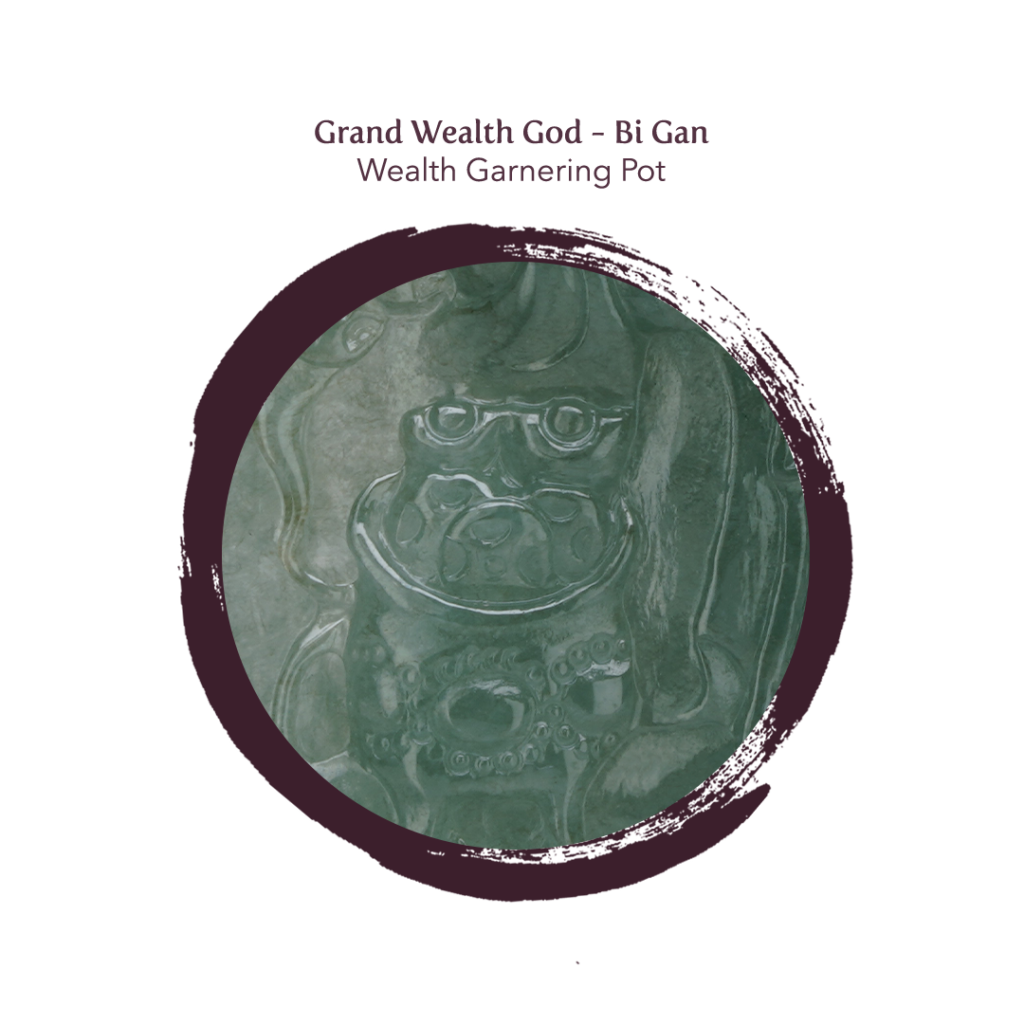 A treasure in ancient Chinese folklore, the Wealth Garnering Pot (聚宝盆) is the most powerful wealth amplifier and wraps up this trinity of auspicious emblems. It grows and accumulates wealth, allowing the destined wearer to maximise their human potential.
According to legend, the Wealth Garnering Pot was used by Shen Wansan (沈万三), one of the wealthiest businessmen in the Ming dynasty. By multiplying his wealth and success, Shen Wansan's success solidified the legacy of the Wealth Garnering Pot as a figure of prosperity.
Collectively, these auspicious emblems empower the blessed owners of the Fine Jadeite Grand Wealth God, accelerating their biggest goals and aspirations and delivering unto them with opportunities that arise at key strategic junctures. This exquisite curation of auspicious emblems serves as a guide for the wearer, directing them towards ever-growing achievements and successes.
With the Fine Jadeite Grand Wealth God in their possession, destined owners can look forward to securing influential positions in their careers and industries, as well as climbing to new heights in these fields. They are able to earn record breaking sales, achieving massive windfalls and enviable returns with the blessings of Bi Gan, particularly during this Lunar New Year.